WEDDING MAKEUP
May your wedding makeup be as you always wanted it to be – flawless till morning.
The wedding makeup is specially designed for each bride. It depends on her style, makeup habits and her wishes. My aim is the bride has to feel and look gorgeous.
Welcome to my website.
Reservations for the wedding season 2022 are accepted at:
info@urskagroselj.com
Wedding makeup with airbrush. (Photo: Andraž Gregorič)
AIRBRUSH WEDDING MAKEUP
For bridal makeup I use long lasting foundation which is spread over the face in airbrush technique. The result is a natural and fresh look all day/night long.
Foundation used for the wedding makeup is of a high quality and it lasts up to 18 hours. Airbrush is used to spread foundation over the face in a very thin layer. Only few drops of foundation are used to achieve flawless appearance of the skin.
When using airbrush we do not touch the skin as we usually do with brushes. That means that the possibility of spreading the skin allergy is reduced to its minimum. Airbrush makeup is the best when we have to cover up the pigment stains, acne and skin irregularities.
Advantages of the airbrush makeup:
full coverage
lasts up to 12-18 hours
minimum amount of the foundation
natural and fresh appearance
no stains on the clothes
flawless appearance
Are you considering the option to do wedding makeup by yourself? Avoid the stress and let it be done by somebody experienced. I will make your bridal makeup professionally in the time arranged and you will be able to relax and enjoy your special day. I can come to your home or any other desired location.
Price for the wedding makeup is 80 eur.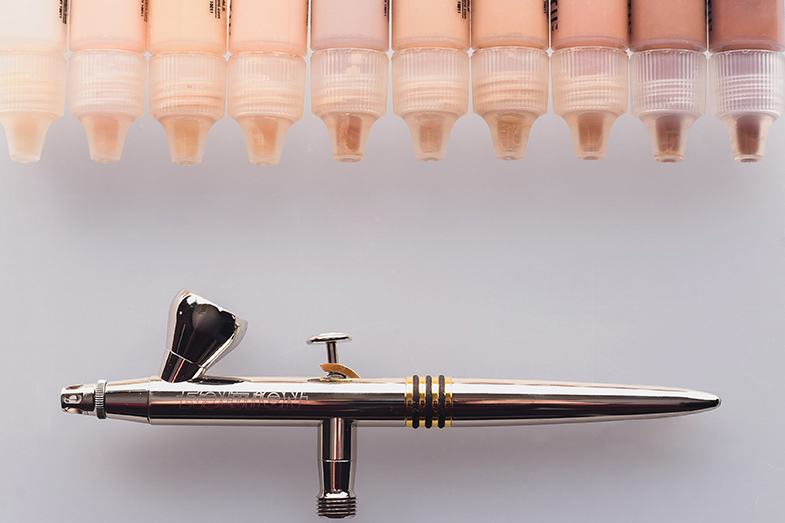 Airbrush wedding makeup for the perfect look.
PRE WEDDING MAKEUP
Tell your wishes and expectations to the makeup artist at the pre-wedding makeup session before your special day. We will choose the colours, try the fake eyelashes, decide the intensity of the bridal makeup. And it will be easier on the wedding day. I will know what you want and you will know what and how it will be done.
The price for the pre-wedding makeup is 50 eur.
Pre bridal makeup.
MAKEUP FOR THE WEDDING GUESTS
Sometimes not only the bride but also the maid of honour, mother, sister and friends would like to have perfect makeup. Makeup will be created following your wishes – a natural makeup can be done or the more glamorous one. If the bride and at least two other persons decide for the makeup, a discount will be accounted.
Price for makeup for evening makeup is 50 eur.
PERSONAL MAKEUP BAG
If you want I can suggest and choose makeup products you are going to use on your wedding day for small makeup touch-ups. And you will happily use them days after your wedding day.
I will be pleased to answer all your questions.
info@urskagroselj.com