BRIDAL MAKEUP
Every bride wants to feel and look gorgeous on her wedding day. Part of her overall look is also bridal makeup, which stays flawless until the morning.
I design wedding makeup to each bride individually, according to her personal style, makeup habits and desires. At my work I use professional products of high quality, long lasting and tested.
Welcome to my website.
Reservations for the wedding season 2021-2022 are accepted at:
info@urskagroselj.com
Bridal makeup in airbrush. (Photo: Andraž Gregorič)
AIRBRUSH BRIDAL MAKEUP
It doesn't matter if there is a natural or glamour wedding makeup – the most important is the perfect look of the skin complexion.
For the bridal makeup I use a high-quality foundation, which is applied with a device called airbrush and spreads the foundation in a very thin layer over the face and leaves a light feeling on the skin.
Advantages of the airbrush makeup:
full coverage
lasts up to 12-18 hours
the minimum amount of the foundation
natural and fresh appearance
no stains on the clothes
flawless appearance
Save the stress and precious time on your special day, and leave doing makeup to me. I will arrange the bridal makeup for you professionally at the agreed time, and in the mean time, you will be able to relax and enjoy the preparations for the wedding. I can come to your home or other desired location.
The price for the bridal makeup is 80 eur.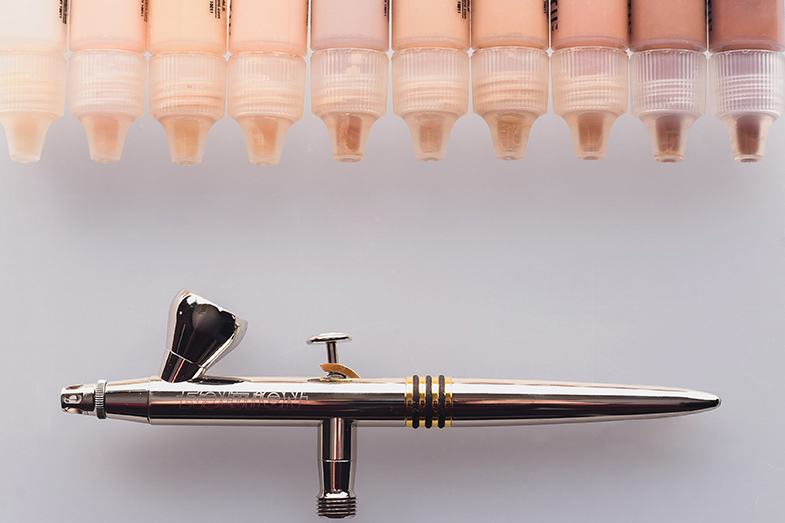 Airbrush bridal makeup for the perfect look.
PRE BRIDAL MAKEUP
Pre bridal makeup is an opportunity for you to tell me your wishes and expectations about your wedding look and to test the appropriate intensity of makeup. On your wedding day, you will know exactly what to expect. I will also advise you on skincare, as this is the key to perfect makeup. Pre bridal makeup is also an option to check if the cosmetics I use to suit you. This way you avoid a possible allergic skin reaction on the wedding day.
The price for the pre-bridal makeup is 50 eur.
Pre bridal makeup.
WEDDING GUESTS MAKEUP
On the day of the wedding, the maid of honour, bridesmaids, mother, sisters and friends often decide to have a professional makeup too. If the bride and at least two other persons decide for the makeup, a discount will be accounted.
Price for the evening makeup is 50 eur.
MAKEUP BAG FOR THE BRIDE
At your request, I can make a package of selected makeup products to be used during your wedding day. The package usually includes concealer, lipstick, lip gloss and matte sheets - basic makeup products to refresh your bridal makeup.
I will be pleased to answer all your questions.
info@urskagroselj.com